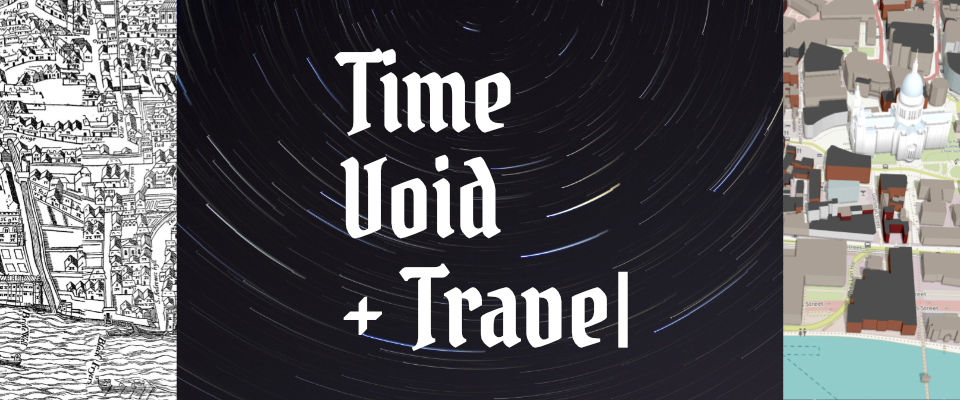 Time, Void, & Travel
Time, Void, and Travel is a moderately competitive map-labeling game based on the popular Beak, Feather, and Bone by Tyler Crumrine and inspired by the map-tile art installation Jerry's Map by Jerry Gretzinger.

In this game, players are living in a city where time has just been warped and the entire city is transported into the Past. As your communities explore the city to figure out what happened, you realize that time and space are still shifting. The city is fragmented into sections that are in different time periods and some sections that are completely empty.
The three kinds of sections you find are:

The Past by what looks to be about 1560s (500-600 years in the past).
The Present which looks exactly like the 21st century city they remember
The Void which looks like an endless empty space save for the interfaces with other sections. Although this Void looks empty, you have a sense that there is something behind all the nothingness.
Players will explore the various fragments of their city, determine what they look like, and eventually figure out what has caused the city to become time warped. This game uses almost all of the same base rules as Beak, Feather, and Bone, but adds additional mechanics to create space-time warps and voids.

Itch-funding
The game is a work in progress and I've included a working draft at launch. I plan to complete it in a basic form, but I want to use Itch to crowdfund improvements to the game! See below for my goals. I am using this as a low stress way to gauge interest for the game and see how much time and resources I want to invest. Please consider supporting!

$100 - Max goes through and seriously edits the document
$200 - Professional layout
$500 - Hire someone to make a pretty isometric map for the Present!
Purchase
In order to download this game you must purchase it at or above the minimum price of $5 USD. You will get access to the following files:
Time Void and Travel.pdf
40 MB
Time Void and Travel.txt
9 kB
Maps with no lines.pdf
5 MB
Exclusive content
Support this game at or above a special price point to receive something exclusive.
Free Copies for Marginalized People
If you are a marginalized person who cannot afford to buy the game, feel free to claim one of these free copies, no questions asked. You don't have to explain, leave a review, or anything. Everyone should be able to experience indie TTRPGs, regardless of economic status.